Intranet for the TV company Rustavi 2
TV Company Rustavi 2 is one of the few Georgian companies which are constantly trying to utilize high-technology resolutions in their work. It was a pleasant surprise to us when the Company management decided to purchase and introduce an internal intranet portal. :)
Rustavi 2 is a sizable company, with numerous employees. Keeping them constantly informed and simplifying internal communication is a primary target. For the employees spread out in several studios, buildings, cities and sometimes even countries, quick and effective communication, file exchange and constant awareness of company operation is of ultimate importance.
The system created in Omedia makes all the existing problems easier to resolve. An internal portal for company employees—this is a universal instrument, developed for any person working for the company. A convenient and comprehensible interface makes it possible for the system to be implemented without any special training.
The employee database is constantly updated in the system by the company HR. Each employee, with a user name and a password, is able to access the Rustavi 2 intranet through any computer with Internet access.
By just glancing at the intranet homepage, one can learn about the company news, plans for the nearest future or see who is in the system currently. And thanks to the Birthday bloc, you will never forget to send your colleague a congratulatory message.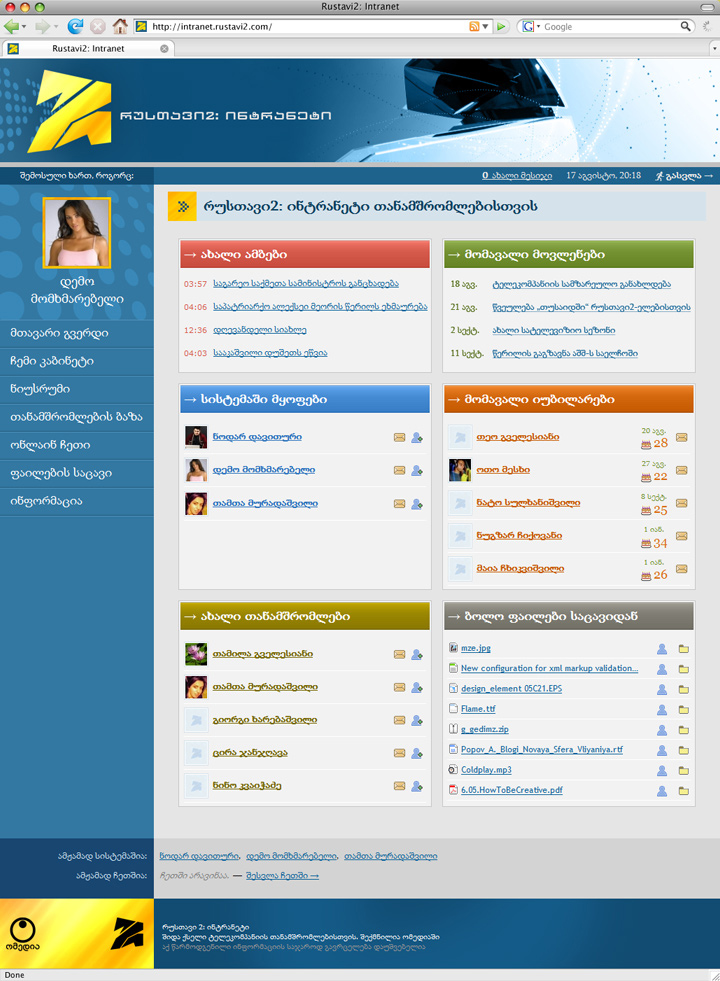 Moreover, intranet users have numerous other instruments to simplify their work and even to enjoy themselves occasionally.
Each employee has a personal page, similar to a profile, where they can change information, read the comments left by their colleagues and respond to the ones of their own choosing.
By the two calendars in the system, it is possible to add events for both public and private viewing. The private calendar resembles an organizer, which is accessible from any location.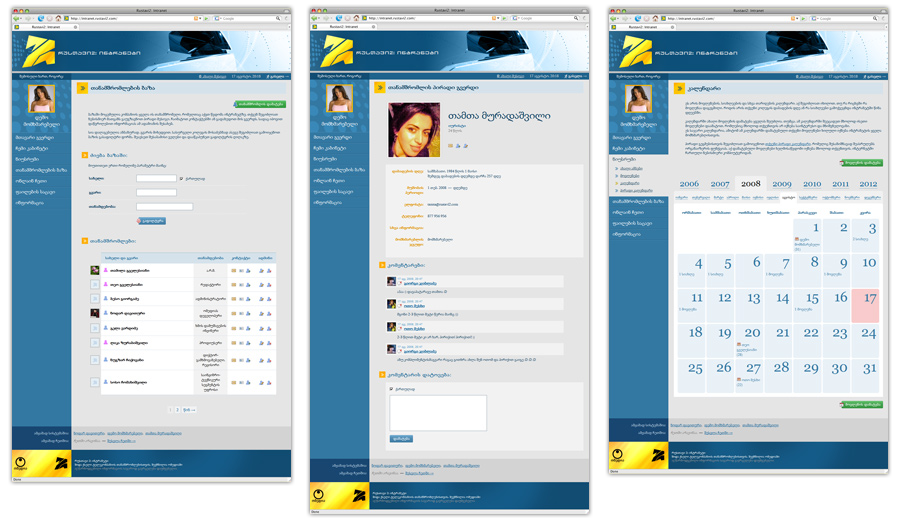 The intranet file depository is one of the most useful instruments. Apart from a personal folder for each user, unlimited amount of virtual folders can be created. By this means, file exchange becomes the safest and the quickest process, starting with corporative documents and ending with the business-trip photos. :)
In addition to the listed above, online chat, internal phone-number base, private messaging, contact list and protected folder modules are also available.
— The textual content displayed on screenshots is not authentic. It serves as a visual sample only.