Online campaign for the movie Things You Love the Most
"Things You Love the Most" is a new Georgian New-Year comedy. It is a Formula Creative production, the main characters of which are played by the popular actors of the soap opera "Our Office". :)
Since the day of release, almost all of Georgia viewed the film. Interesting plot, funny and well-known characters, New Year spirit and high-quality production uncharacteristic to Georgian movie production turned out to be equally appealing to all generations of viewers.
The movie premiere was preceded by an ad campaign, the web-direction of which was planned and implemented by Omedia. A complex web-marketing plan was developed in the Studio. The goal was simple enough—every user of Georgian Internet was to receive information about the movie in just two weeks. :)
Firstly, an official site was made. Here, everyone could view the movie trailer, a few videos and listen to the soundtracks in advance. The movie site was actively advertised throughout the internet—based on surveys, ten popular Georgian sites were selected, where the film and site ad banners were put up. As a result of correct calculations, the biggest part of internet audience was covered with minimal costs.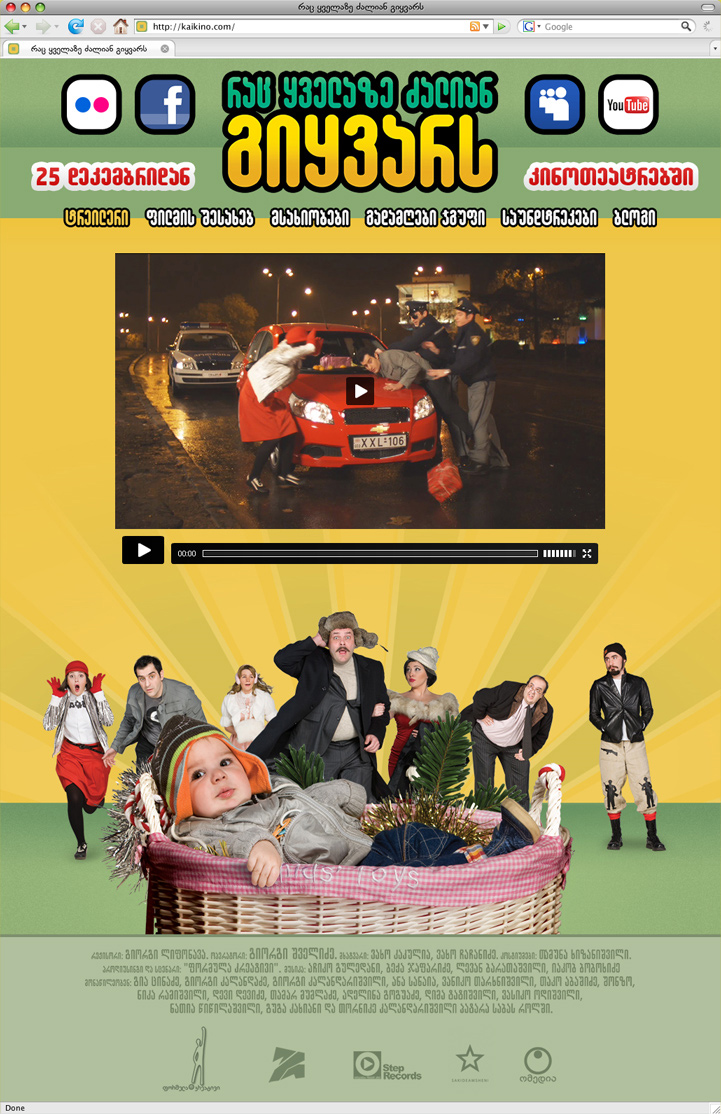 Together with the site, "official representations" for the movie were opened in four of the most high-ranking social networks of the world. The content which did not make the site was distributed on Flickr, Facebook, MySpace and YouTube. Such approach was a pleasant surprise to thousands of Georgian users of these networks.
Particular attention was paid to Georgian bloggers and blogosphere during the campaigning process. Few days prior the premier, every blogger was invited to video presentations as media representatives. Moreover, after the movie hit big screen, a special viewing was organized especially for them.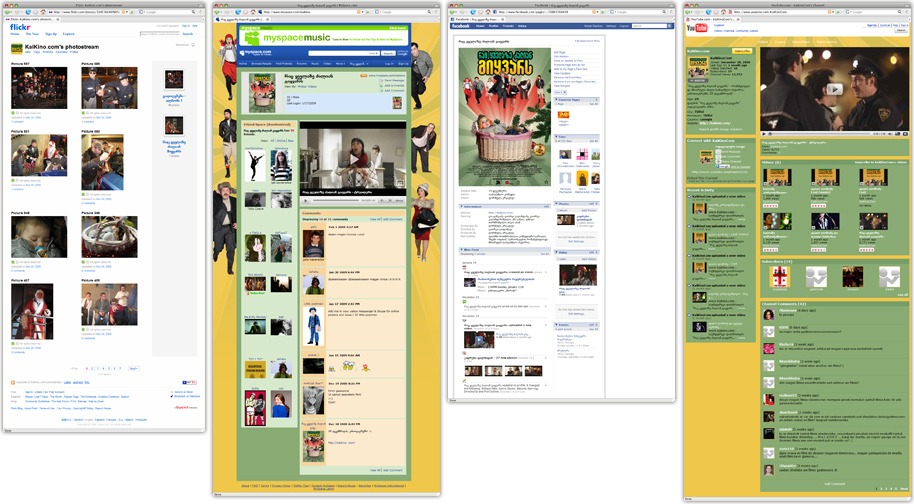 The campaign developed by Omedia was unprecedented in Georgia. For the first time in history, an official site was created for a Georgian movie and it was actively popularized throughout the Internet with untraditional methods. For the first time, Georgian bloggers were given serious attention and were treated as rightful members of the media.
During the whole period, everyone in Georgian Internet could not stop talking about "Things You Love the Most". Reviews were written on almost every blog, topics were opened on every forum, trailers and soundtracks spread momentarily on local video-portals.
Finally, the results exceeded the expectations considerably—this Georgian film broke every box office record in Georgian movie theaters. :)
Update (Dec. 21, 2009): A new site was created by Omedia for the movie sequel →